Shiatsu During Pregnancy - Your Holistic Pregnancy Massage
Pregnancy is a time full of physical and hormonal changes. A pregnancy massage is beneficial and relaxing for you during this time.

Especially Shiatsu massage can be a valuable support during pregnancy. Shiatsu Massage offers a gentle and natural method to promote relaxation and well-being and to relieve tension.

What exactly is Shiatsu?

You might be wondering what Shiatsu is?
Shiatsu, translated as "finger pressure", is not just a form of massage. It is a holistic and mindful bodywork based on the principles of Traditional Chinese Medicine (TCM) and the 5-Element Theory. Through gentle yet intense pressure, mobilizing joints, and stretching muscles, Shiatsu activates the body to bring itself into balance. Shiatsu is therefore a meaningful accompaniment during pregnancy
Here you can learn more about "What is Shiatsu?"

Easily Navigating Pregnancy with Shiatsu
Shiatsu and pregnancy make a fantastic team! A Shiatsu treatment can help you with physical complaints such as morning sickness, back pain, swelling in the legs or slow digestion.

Through calming touch, mindful holding, and gentle massage, your body is strengthened during pregnancy, promoting a harmonious flow of energy. You gain a better sense of your own body and can thus intensely perceive your growing baby.
Shiatsu also helps you prepare for the emotional changes during pregnancy. You recognize your own needs and gain more confidence in your body. This relaxation and trust in your body allow you to handle challenges like sleep deprivation, hormonal changes, and stress during pregnancy more calmly and to prevent energy deficits.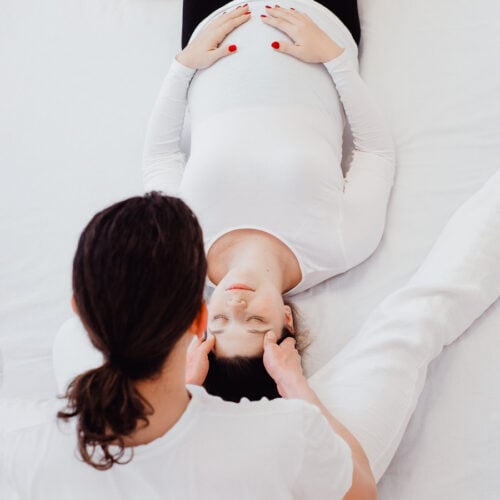 How is a Shiatsu massage applied during pregnancy?

The massage for pregnant women takes place in comfortable clothing and in a position that's comfortable for you.
Gentle and careful techniques are used, tailored to your needs.
No oil or other aids are used.
A treatment usually lasts 60 minutes.
Benefits of Shiatsu during Pregnancy
Shiatsu promotes relaxation and stimulates circulation.
It helps to relieve tension.
Gentle stretches allow for free breathing.
Grounding techniques can counteract discomfort.
You can draw new strength from Shiatsu.
Your baby is also involved in the focus of the treatment.
When can Shiatsu be helpful during pregnancy?
From my experience in my practice with pregnant clients, Shiatsu has helped alleviate typical pregnancy complaints:
In the early weeks, Shiatsu may help with nausea and vomiting.
For releasing tension in the back, neck, and shoulders.
For sleep disorders and states of exhaustion.
For birth preparation and follow-up care after birth.
What my clients say about Shiatsu during pregnancy

Katharina Koch
"I am currently in my 8th month of pregnancy and luckily discovered Shiatsu for myself recently. It's the only thing that provides relief for my ailments, and I enjoy it immensely!
Peter is such a kind and empathetic person; you feel well taken care of, and trust in him was established from the very first second.
A heartfelt recommendation!"

Stephanie Hunger
"A friend introduced me to Ocean Shiatsu. At the time, I was 6 months pregnant and in severe pain. Before my pregnancy, I had been seeing a masseur regularly for 2 years due to severe back problems.
But thanks to Peter, the back pain was gone. Not immediately after the Shiatsu treatment, but about a week later, I could move without any problems. This effect lasted long after the pregnancy. Now, about 4 months later, I'm looking forward to my next Shiatsu treatment.
The atmosphere is very calming and relaxing, and I immediately felt comfortable and welcome. Before the treatment, we discussed why I was there and where the problems were, which I found very good. We didn't just start; we got to know each other first, which I personally find very pleasant.
I heartily recommend this studio to all pregnant women, new mothers, and anyone else with back pain."
Schedule a Massage During Pregnancy

Book an appointment online and experience the effects of Shiatsu for yourself!

*) Shiatsu is a complementary method and does not replace medical diagnosis and treatment. If you have complaints, always consult a doctor first.
Book Now